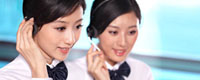 Name: Lisa Liu
E-mail: info@czpumpparts.com
Add: Yunhe Zone, Cangzhou City, Hebei Province, China
Skype: czlk_lisa
MSN: lisa_pumpparts@hotmail.com




The company was founded in 2007. For over 7 years, CZLK Concrete Pump Parts Supply Co.,ltd, has been an experienced & professional manufacturer &trader of concrete pumping systems and accessories at home and abroad . We could supply concrete pump pipe, elbow, reducer, clamp, rubber hose etc that are for Putzmeister, Schwing, Junjin , KCP, CIFA, Sermac, Sany, Zoomlion, etc .
To provide consistent customer sercie, quality, products, and timely delievery resulting in total customer satisfication is our principles.